Future-proof your vehicle fleet with Modul-Connect Generation 4
Published: 1/18/2023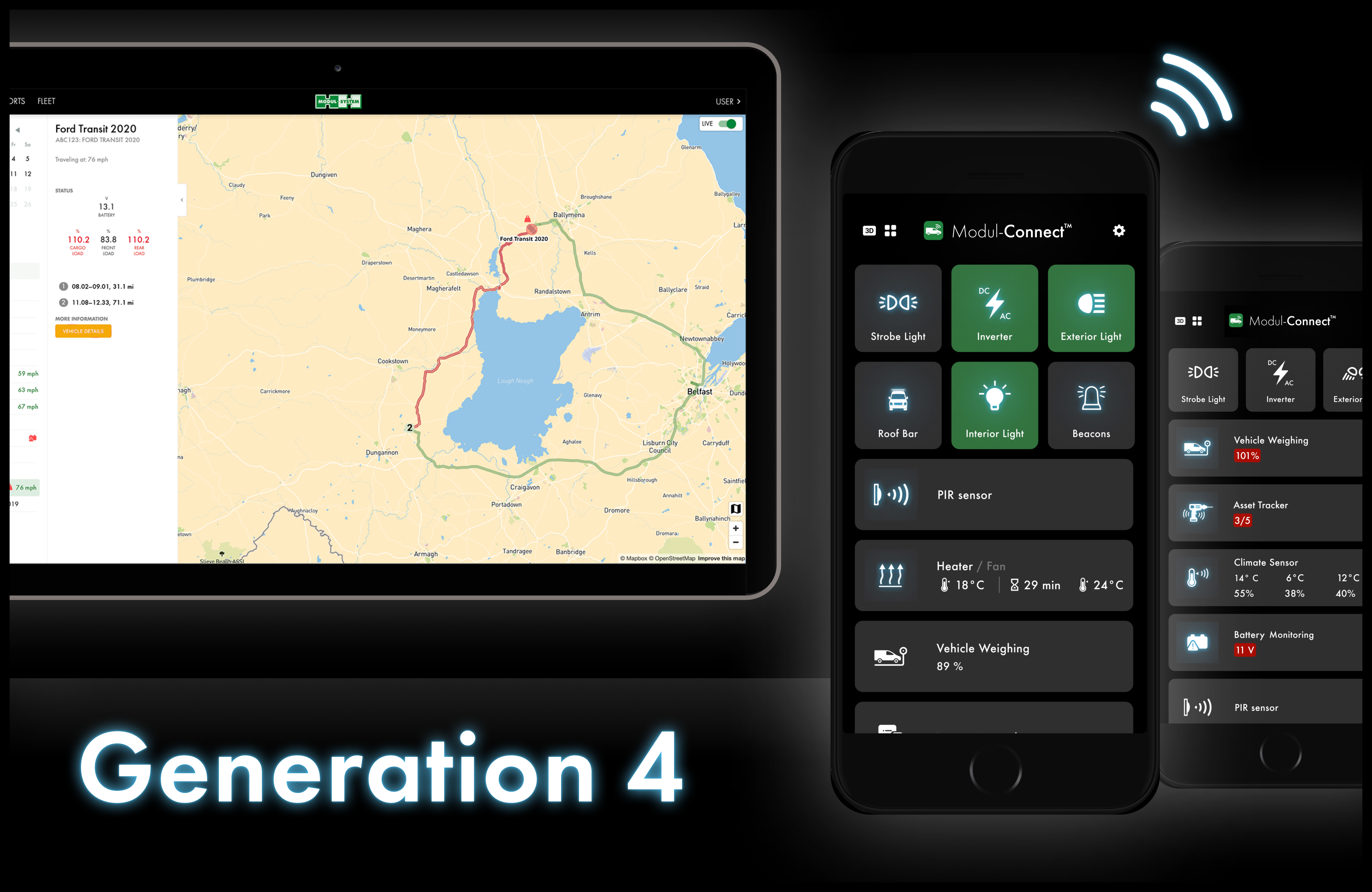 -
Modul-Connect, generation 4 – now with Bluetooth Mesh for high-tech and future-proof technology. With a mesh network that can connect up to 32 000 units does not only widen the range but also creates new possibilities for the Modul-Connect platform. Together with the new generation 4 box and the newly launched products Climate Sensor, PIR Sensor and Asset Tracker, new functionality and better performance is created to optimize the vehicle fleet.
With generation 4, the entire Modul-Connect system has been transformed to communicate with Bluetooth Mesh in order to meet the technology of today and tomorrow. The improved Modul-Connect platform can now build large-scaled Bluetooth networks between Bluetooth units to develop both faster and more secure communication. "To be in the forefront of technology enables us to provide a future-proofed platform for the customer", says Thomas Johansson, Vice President of Modul-System
Generation 4 has enabled the Modul-Connect devices to communicate in a faster, stabler and more secure way. The combination of the Generation 4 box and the Modul-Connect's PIR sensor, provides you with the control over your lighting settings and whether they switch on in response to detected motion. This feature facilitates both greater convenience and a reduction in unnecessary power consumption. "Just like as with our modular racking system, which makes it easier for our customers to work, we do the same with vehicle lighting, says Thomas Johansson
Protect the transportation & delivery of perishable items with Modul-Connect Climate Sensor. With Modul-Connect's wireless Climate Sensor, the driver can monitor the temperature & humidity of the vehicle's load area via the Modul-Connect app or through a display switch panel. This real-time feature delivers an immediate alert when the temperature and/or humidity exceeds or falls below your specific settings, so that the driver can take action to remedy the issue. "Investing in a climate sensor can reduce costs related to unforeseen events and is a small investment in the long run", says Thomas Johansson.
Within the Customer Portal, the fleet manager has access to a complete overview across the fleet and is notified when any deviations occur. In addition, all temperature and humidity records from the sensors are saved and can be easily downloaded, enabling you to verify the condition of goods at any stage throughout transportation.
With Modul-Connect's Asset Trackers on valuable equipment, loss of tools becomes a thing of the past. When the vehicle leaves the workplace, the Modul-Connect generation 4 box monitors the tracked gear. If any tool becomes out of range, the driver will be immediately notified through the phone app or display panel. The latest location of the tool will be visualised on a map so that any misplaced equipment can be quickly recuperated.
"There is a lot of hard work and commitment behind the new system and products, therefore we are extra proud to be able to launch Modul-Connect Generation 4. Through updated and several new products, we hope that Modul-Connect can help more companies to make their vehicle fleet more efficient", says Thomas Johansson